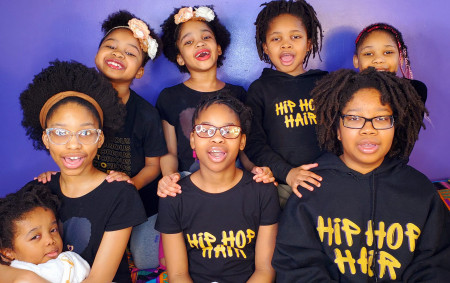 Press Release
•


updated: Apr 8, 2021

In the midst of the pandemic, rioting, and unprecedented events, one family invests a portion of their stimulus to encourage unconditional love and self-acceptance!

BALTIMORE, April 8, 2021 (Newswire.com)
–
 JFAM JOHNSON, a collective of eight siblings (ranging from 4-14 years old), are taking a stand to encourage and empower Black and Brown American boys and girls to embrace self-acceptance. HIP HOP HAIR, JFAM JOHNSON's debut publication, is a fresh and timely literary presentation of love, beauty, and culture. They believe in the message behind their bestselling children's book and have invested a portion of their stimulus payment to promote it.
Although there has been a great increase in the number of Black American and African-American authors creating their own narratives in the children's book industry, JFAM JOHNSON discovered the rarity of books about Black and Brown children authored by Black and Brown children. Now, JFAM JOHNSON is on a mission to inspire youth to create their ideal world, conquer all disharmony, and crush all stereotypes by authoring books. Their mission is to encourage others to "Love the skin you're in and the hair you wear." News of JFAM JOHNSON's writing endeavors reached Ma$e (hip hop artist turned Pastor), and he was compelled to support the author's efforts by sharing a post to his Instagram Story. With a motivational clothing brand, original Hip Hop music, and other works of the imagination, they've invested some of their stimulus money to create a hip hop experience, and it's all in the spirit of encouraging and empowering today's youth.
JFAM JOHNSON 's flagship edutainment book, HIP HOP HAIR, highlights the rhyme, rhythm, and respect of the history and culture of Hip Hop. This literary delight includes original illustrations by Abigail C. Johnson (age 12) and Jael "DJ K" Johnson (age 10). Each illustration is a vibrant display of Black and Brown American children in uplifting and true-to-life settings. With imaginative end rhymes and repetitive melodies, you'll be chanting, "I'm HIP, I'm HOP," before you've made it half-way through the book. HIP HOP HAIR is an interactive immersion of historical proportions, boasting fun facts, resources, and a bonus website so you can have a truly hip-hop experience! You can find out more by visiting www.hiphophairbook.com or by visiting https://linktr.ee/umotiv8cre8tions. 
###
MEDIA CONTACT
Christina M. Johnson, Author Coach & Publisher
(240) 394-9523
Source: JFAM JOHNSON
Related Media
Originally published at https://www.newswire.com/news/8-siblings-use-stimulus-to-promote-bestselling-childrens-book-21339868