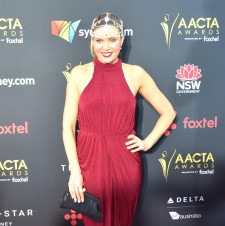 Press Release
•


updated: Mar 19, 2019

Australian documentary filmmaker, singer-songwriter and humanitarian Bonet is 'changing the world' as she wins her 32nd award in America for her biopic and social justice documentary short film during International Women's Week.

SYDNEY, March 19, 2019 (Newswire.com)
–
Australian documentary filmmaker Angelena Bonet (founder and CEO of Crystal Heart Productions) has won her 32nd film and music award in the U.S. thus far for her biopic documentary short film Change The World at the prestigious New York Film Awards.
"Thank you New York Film Awards from the bottom of my heart for this award. What a special gift! I've kept putting one foot in front of the other, all the while maintaining my integrity and honoring the promise I made to my beloved at his bedside. Our unconditional love is how I have survived the torture I have endured. After my evil perpetrators showed me hell, it sparked my power, an inner strength I didn't know I possessed and mark my words – I will never be intimidated or silenced by them or other cowards who protect and align themselves with the lowest of humanity. I will treasure this moment forever, thank you New York Film Awards!"
Angelena Bonet's multi-award winning documentary short film Change The World and original music soundtrack (available on iTunes) features the songs she co-wrote from her heart and soul with her late fiancé Erick Deeby. He had written and recorded instrumental pieces of music for her between 2005 and 2007, then suddenly and unexpectedly passed away three days after they got engaged in August 2007. Bonet then wrote the lyrics and melody to his music after his devastating death and during her time of deepest grief. Then on May 26, 2012, she was a victim of a violent attack and was kidnapped and gang-raped but miraculously survived the attempted murder in Melbourne, Australia. Suffering Post Traumatic Stress Disorder (PTSD) as a consequence of the heinous crime, orchestrated by someone that she knew and trusted, she is now ready to share her story. Her debut documentary feature film Angelena: Change The World is now available on Vimeo On Demand.
Angelena Bonet is a warrior in the fight to end violence against women. With a fierce commitment to helping victims heal and take back their life, she brings to bear a multitude of talents, wisdom and personal experience. Only from the depths of her despair and darkest days has she truly found her voice and the courage to share her experiences and to speak out about issues generally swept under the carpet by society. With multiple outlets for her commitment to supporting non-violence and health recovery, Bonet has also produced two documentary feature films Angelena: Change The World and the sequel Angelena: Heart Of The Matter in their entirety chronicling her life to date. From a former Australian supermodel to global women's rights advocate, Bonet's win comes during International Women's Week, where she celebrated the important day as a guest of UN Women at their Annual Breakfast.
New York Film Awards is a monthly film and screenplay competition for filmmakers worldwide. Each month, our Jury will award the best films through private screenings and make a special interview with the monthly Best Picture winner.
For more information, contact Angelena Bonet via Twitter @angelenabonet or visit Crystal Heart Productions at www.crystalheartproductions.com. 
Source: Crystal Heart Productions
Related Media
Originally published at https://www.newswire.com/news/angelena-bonets-star-is-on-the-rise-as-she-wins-best-inspirational-20832873