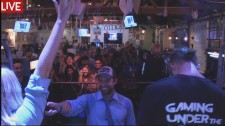 Press Release
•


updated: Mar 15, 2019


CHICAGO, March 15, 2019 (Newswire.com)
–
On March 22nd, LegalRideshare will team up with Gaming Under the Influence, a high-octane, livestreaming game show where two contestants–controllers in hand–get into a cage and compete against one another, while viewers influence their fate, thanks to the show's digital interactive voting component.
The event will take place March 22, 23 & 24 at C2E2, the massive Chicago Comic & Entertainment Expo. 83,00O pop culture fans will get an up-close look at guishow.tv when it streams live each day of the expo from McCormick Place, the three-day home for cosplay, comics, celebrities and video games.
"It makes sense for LegalRideshare to be a part of this event, as it both matches up with our audience and helps educate them in case they're ever in a rideshare accident," Business Development Manager, Jared Hoffa, explained.  
Prizes are up-for grabs, too, from sponsor Mike's Harder Lemonade; Rockstar Energy Drink and weekend getaways from MGM Grand Las Vegas Hotel & Casino for GUI registrants. An epic after-party on Friday night 3/22 [10p – 1a] at Underground Chicago, kicks off the three-day GUI experience. 
Source: LegalRideshare
Related Media
Originally published at https://www.newswire.com/news/livestreaming-interactive-game-show-goes-live-march-22nd-20831936