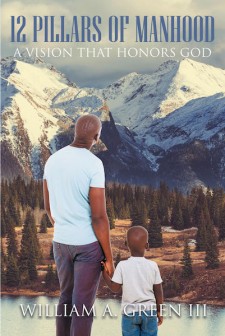 Press Release
•


updated: Mar 21, 2019

Recent release "12 Pillars of Manhood: A Vision That Honors God" from Covenant Books author William A. Green III is a much-needed manifesto for developing the twelve principles of godly manhood, including discipleship, honor, study, compassion, self-control, prayer, stewardship, courage, generosity, family, integrity, and self-care.

FAYETTEVILLE, Ga., March 21, 2019 (Newswire.com)
–
William A. Green III, a former corporate servant turned director of student engagement in Atlanta, Georgia, has completed his new book "12 Pillars of Manhood: A Vision That Honors God": a culturally relevant guide to godliness.
"The Twelve Pillars of Manhood: A Vision that Honors God" is the result of the author's life journey viewing community and family through the lens of the Word of God applied to real world situations. It argues that what ails the country and communities is the need for stronger families led by stronger men. But the book also provides guidance for women raising boys to manhood, drawing on the author's own experiences of being raised in large part by a single mother.
The Twelve Pillars begin with the premise of honoring God. The remainder of the book's principles follow and develop this premise in its various contexts, worship and prayer, discipleship, stewardship, leadership, and resisting temptation. The book chronicles the author's journey into Christian manhood. This journey takes the author through a world in desperate need of the very Christian principles it fights against.
Green shares, "The Twelve Pillars is a celebration of who God has called each of us to be. More importantly, the Twelve Pillars is a battle plan of how to challenge our boys and men to a higher level of maturity, to lead more effectively, and to love more fully, living out God's purpose for their lives."
Published by Covenant Books of Murrells Inlet, South Carolina, William A. Green III's new book is a challenging but much-needed perspective into what it means to be both a man and a believer.
Green offers an insightful, grounded book for parents, youth pastors, young men, and other guardians and leaders anxious to see more well-rounded, spiritually strong men step into being for the sake of society and God's kingdom.
Readers can purchase "12 Pillars of Manhood: A Vision That Honors God" at bookstores everywhere, or online at the Apple iTunes store, Amazon, or Barnes and Noble.
Covenant books is an international Christian owned and operated publishing house based in Murrells Inlet, South Carolina. Covenant Books specializes in all genres of work which appeal to the Christian market. For additional information or media inquiries, contact Covenant Books at 843-507-8373.
Source: Covenant Books
Related Media
Originally published at https://www.newswire.com/news/william-a-green-iiis-new-book-12-pillars-of-manhood-a-vision-that-20834373