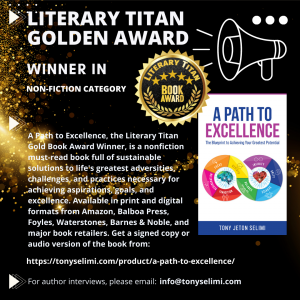 A Path to Excellence – The New Book by Tony J. Selimi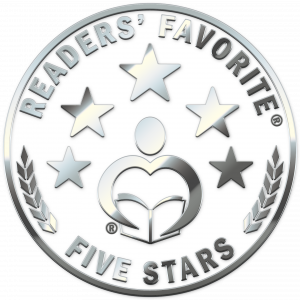 A Path to Excellence Book by Tony Jeton Selimi Receives the Readers' Favourite 5 Star Review
The Literary Titan Gold Book Award is bestowed on extraordinary books that deliver original content, ideas, and tools for personal and professional excellence.
Author Tony Jeton Selimi has penned a masterful treatise on emotional intelligence and positive change, all with a view to making the very best versions of ourselves come into being."
— K.C. Finn for Readers' Favorite
LONDON, UNITED KINGDOM, May 9, 2023/EINPresswire.com/ — It's official —the #1 Amazon bestselling book A Path to Excellence: The Blueprint to Achieving Your Greatest Potential is the Winner of the" Literary Titan Golden Award 2023″ in the Nonfiction Category.
This nonfiction must-read book contains sustainable solutions to life's greatest adversities, challenges, and practices for achieving aspirations, goals, and excellence. The book was born from a COURAGEOUS STORY of a U.K. migrant teenage victim of the Yugoslav civil war who survived and thrived against all odds. He now shares this practical guide to building upon your strengths, growing beyond your limitations, and achieving the highest confidence levels, excellence, growth, resilience, success, and fulfilment.
Selimi's journey is a testament to his principles' effectiveness. From a difficult childhood to homelessness and financial poverty due to the countless life adversities that hit him very young, Selimi rose to graduate from one of the top five UK engineering universities, University College London, and become a qualified and internationally recognized award-winning author and a key person of influence.
Selimi weaves lessons from real-life experiences with scientifically proven self-awareness, self-growth, and self-mastery principles. Through this amalgamation of life, business, and client experiences and research, Selimi provides sustainable solutions to life's greatest adversities and challenges, empowering readers to work towards their aspirations, goals, and dreams with confidence, empowerment, and a sense of accomplishment.
To assist readers in achieving excellence in a possible, sustainable, and meaningful way, Selimi presents a simple eight-step process along with scientifically proven principles. The book's organization provides a simple framework for the theory. Moreover, the narrative is concise, confident, and relatable, making the book an easy and enjoyable read that applies to everyday life.
This uplifting award-winning, bestselling book offers readers a comprehensive roadmap for overcoming life challenges and roadblocks and pursuing personal, professional, business, and leadership excellence through practical strategies backed by science-based research studies.
There were hundreds of thousands of entries from around the world, and Selimi's book was selected as a winner for its high-quality writing, design, and market appeal. Now, you can learn how to raise your awareness, knowledge, confidence, and purpose to a whole new level with the power of personal and professional excellence. The author truly appreciates being globally recognized as an International Literary Golden Book Award Winner. On his behalf, we are thrilled to announce his receiving this prestigious literary award from Literary Titan.
The Literary Titan Golden Book Awards are awarded to books that have astounded and amazed them with unique writing styles, vivid words, complex philosophies, inspiring character stories, and original ideas. Selimi's book deserves extraordinary praise. Literary Titan is proud to acknowledge the hard work, dedication, and imagination of Tony Jeton Selimi, a talented author, speaker, business consultant and transformational life coach specializing in human behaviour on a mission to educate, inspire and transform the lives of one billion people.
"A Path to Excellence" By Tony Jeton Selimi

Hardcover | 5.5 x 8.5in | 204 pages | ISBN 9798765229538

Softcover | 5.5 x 8.5in | 204 pages | ISBN 9798765229552

E-Book | 204 pages | ISBN 9798765229545
Categories: Self-Improvement, Motivation, Leadership, Business Life, Psychology, Self-Help and Counselling, Mind, Body Spirit, H.R. Training, Organizational Theory & Behavior Management, Personal Money Management
Available at Amazon https://www.amazon.com/Path-Excellence-Blueprint-Achieving-Potential/dp/B0B8317KN8, Balboa Press https://www.balboapress.com/en/bookstore/bookdetails/702597-a-path-to-excellence, Barnes & Noble, Foyles, Waterstones, and major book retailers in print, audiobook, and Kindle.
Book Website: https://apathtoexcellence.com

Book Video: https://youtu.be/E7AnnLi23fc

Author Signed Book Link: https://tonyselimi.com/books/a-path-to-excellence/
Author available for interviews, private consults, spauthor'sngagements, book signing tours, private training, filming, and other bookings; please get in touch with Alma Stasel, TJS Cogni ion Ltd, Media Relations, E-mail: [email protected], Telephone: +442078285005
JOURNALISTS: For review copies or interview requests, contact:

Marketing Services

Tel: 1-812-358-7578; 844-682-1282

Fax: 812-961-3133

Email: pressreleases(at)balboapress(dot)com

(When requesting a review copy, please provide a street address.)
About the Author
Like a phoenix rising from the ashes, Tony Jeton Selimi, born in 1969 in Gostivar, a town in the Republic of North Macedonia, went from being abused, critically ill, bullied, surviving a civil war, and living homeless and broke on the streets of London, to graduating from one of the top engineering universities in the U.K., successfully climbing the corporate ladder, and managing and leading multi-billion technology transformation programs. In 2012, he followed his heart's calling and chose to start his entrepreneurial journey. In 2014 he published his globally recognized multi-award-winning book A Path to Wisdom, and in 2015 he founded TJS Cognition Ltd, a company dedicated to exploring, expanding, and evolving the frontiers of human awareness and potential. His unshakeable mission is to inspire and teach men and women of all professions, nationalities, creeds, and colours how to become purposeful and disciplined masters of themselves and dedicated and inspired leaders and teachers of others.
In just a decade, he went from being unknown to internationally recognized TEDx speaker and multi-award-winning author of several books, including A Path to Wisdom, #Loneliness, Fit for Purpose Leadership #3, The Unfakeable Code®, Novum #10, A Path to Excellence and upcoming book Climb Greater Heights. He is also a filmmaker and executive producer of The Truth About Reading documentary about the growing problem of illiteracy in the USA and globally. He created Into Your Divinity, co-created the multi-award-winning documentary Living My Illusion, and pioneered several trademarked methodologies in human development to help others reach their aspirations and dreams.
Selimi is a crucial person of influence in the personal and professional development industry and one of the world's leading authorities on human behaviour, the psychology of achieving excellence, excellent health, wealth, empowered and purposeful living, leading and loving.
Entrepreneurs, CEOs, global leaders, Hollywood A-list celebrities, and people from all professions consult with him to get unstuck, unleash their magnificence, excel in all critical areas of life, and live fulfilled, authentically, and freely on their terms. To learn more about Tony Jeton Selimi, check out the author's official website: https://tonyselimi.com, where you can connect with the author directly or through their social media pages.
Alma Stasel
TJS Cognition Ltd
+44 20 7828 5005
[email protected]
Visit us on social media:
Facebook
Twitter
LinkedIn
Instagram
YouTube
Other
A Path to Excellence Official Book Trailer


Originally published at https://www.einpresswire.com/article/632532783/author-tony-j-selimi-has-received-the-literary-titan-gold-book-award-for-his-riveting-masterpiece-a-path-to-excellence