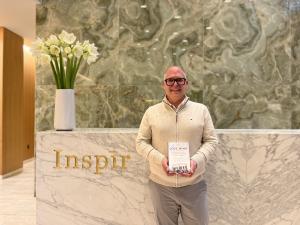 Former plaintiff of U.S. Supreme Court landmark marriage equality case visits luxury senior living community with demonstrated commitment to LGBTQ+ seniors
NEW YORK, NY, UNITED STATES, October 30, 2023 /EINPresswire.com/ — Inspīr Carnegie Hill, a luxury senior living community located on Manhattan's Upper East Side, was honored to host Jim Obergefell, lead plaintiff in the landmark marriage equality case, Obergefell v. Hodges, for a discussion on his memoir, "Love Wins: The Lovers and Lawyers Who Fought the Landmark Case for Marriage Equality." The event is a testament to Inspīr's ongoing dedication to celebrating LGBTQ+ life, history, and creating an inclusive community for LGBTQ+ residents and staff.
During his visit, Obergefell opened up to Inspīr residents about his relationship with his late partner, John Arthur. A self-described "accidental activist," Obergefell recounted his unlikely path to his Supreme Court victory: "I think what it comes down to, really, is that I loved John, and we deserved to exist," said Obergefell. "When our attorney asked us if we wanted to take action, we said yes in under a minute, and I was in the courthouse just days later."
Obergefell's role as a caregiver resonated deeply with the audience, many of whom had been caretakers in their past or currently have caretakers of their own. Of his beloved husband, who ultimately lost his battle to ALS, Obergefell stated, "I got to keep John alive, being able to fight for him, to fight for our marriage. I can't imagine a better way to honor his memory," he continued.
Following the discussion, Obergefell offered commentary on the ongoing battle for civil rights in the United States, identifying gains and further areas for progress since the landmark case was won in 2015. He then convened with residents in the lobby for a book signing and cocktail hour.
Obergefell's visit to Inspīr Carnegie Hill underscores the community's commitment to fostering a welcoming and inclusive environment for LGBTQ+ seniors. The evening was also a time to celebrate the community's recent achievement of the Platinum SAGECare credential, an LGBTQ+ aging cultural competency training program, of which Obergefell was previously on the board. To earn the prestigious accreditation, a minimum of 80% of Inspīr's management and non-management staff completed the required hours of LGBTQ+ cultural competency training. At this time, Inspīr is one of only two luxury senior living communities in New York City to earn a SAGECare Platinum Certification.
At Inspīr, resident life is grounded in nine core elements; one of which is belonging. Inspīr frequently hosts programming that honors the causes and identities that hold significance for its residents. Notable guests have included Marti Cummings, a non-binary political activist and candidate for New York City Council; and Sutton Lee Seymour and Evita Loca, two of NYC's premier drag queens. "All of our residents' backgrounds and identities are represented and celebrated at Inspīr; it's what makes this community truly feel like home," said Evan Rossi, Senior Director of Resident Experience.
Inspīr Carnegie Hill takes immense pride in its innovative and engaging programming, as well as its Platinum SAGECare certification, emphasizing a dedication to nurturing an all-embracing, caring environment for its residents. A thought leader and pioneer of their field, Inspīr's utmost priority are the individuals of the communities which they serve. Offering a multitude of resources for prospective residents and their families, each new member of the community feels just that– a member of the community– and is welcomed into Inspīr's world-class care.
Inspīr is committed to expanding its LGBTQ+ inclusivity initiatives and plans to seek SAGECare certification at its second location in Washington, D.C., Inspīr Embassy Row, set to open in late 2024. The training will be integrated into the onboarding process for all new hires.
About Jim Obergefell

Jim Obergefell draws from his unique experience at the heart of the Supreme Court marriage equality ruling to move and empower audiences to stand by their beliefs—and prove that love always wins. A self-described accidental activist, Jim found himself in the role of caregiver for his partner of more than 20 years, John, as he neared the end of his life due to ALS. An unexpected series of events led to their decision to marry, eventually taking Jim to the Supreme Court and the landmark decision in Obergefell v. Hodges that resulted in victory for marriage equality. Jim and co-author, Pulitzer Prize-winning investigative journalist Debbie Cenziper, captured Jim and John's story, as well as the stories of others involved in this case in the book Love Wins: The Lovers and Lawyers Who Fought the Landmark Case for Marriage Equality. Now a self-described purposeful activist, Jim is dedicated to the fight for equality not just for the LGBTQ community, but for civil rights for all. In his moving story of love, loss, dedication, and commitment, Jim brings audiences along on his emotional and empowering journey and his continued efforts fighting for human rights.
About Inspīr

Inspīr is a new, luxury senior living brand offering a different approach to living for discerning older adults in urban markets. The brand represents the convergence of luxury accommodations, exceptional hospitality, cutting-edge technology, whole-person wellness and world-class care. The brand's flagship senior living residence, Inspīr Carnegie Hill, is located at 1802 Second Avenue at 93rd Street, in the heart of New York City's Upper East Side. A second location is currently under development in Washington D.C.'s vibrant Dupont Circle neighborhood, anticipated to open in 2024. Inspīr offers state-of-the-art assisted living, memory care and enhanced care options, with private apartments customized to fit the needs of an aging population. Inspīr is developed by Maplewood Senior Living, in partnership with Omega Healthcare Investors, Inc. (NYSE: OHI). For more information, please call 646-978-9040 or visit inspirseniorliving.com.
Anna de Graaf
Hundred Stories PR
[email protected]
Originally published at https://www.einpresswire.com/article/665143826/jim-obergefell-lgbtq-rights-advocate-visits-insp-r-carnegie-hill-dedicated-platinum-sagecare-living-community