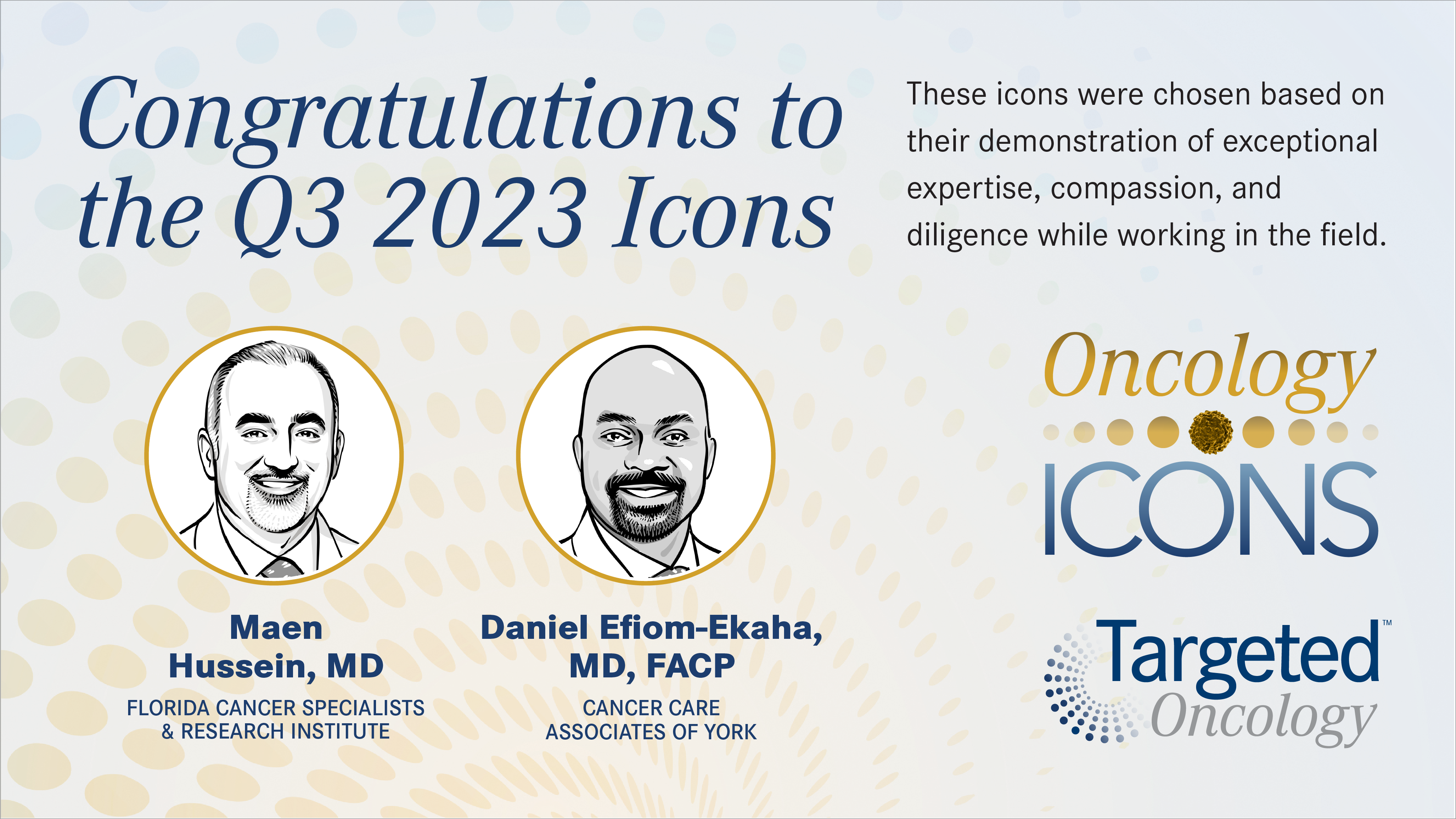 This award celebrates the outstanding achievements of professionals who have significantly impacted the oncology landscape
CRANBURY, N.J., Nov. 15, 2023 (GLOBE NEWSWIRE) — Targeted Oncology, a multimedia resource that offers engaging content and expert opinions on standard and emerging treatments in the field of oncology, is thrilled to announce the distinguished recipients of the prestigious Oncology Icons award program. This program recognizes individuals who have made exceptional contributions to the field of oncology through their expertise, dedication and innovation.
This quarter's recipients have demonstrated remarkable leadership and have shown a deep commitment to improving cancer care and outcomes. These individuals have set new standards of excellence and serve as an inspiration to the entire oncology community.
The Oncology Icons are:
Daniel Efiom-Ekaha, M.D., FACP. Efiom-Ekaha is a community-based hematologist/oncologist at Cancer Care Associates of York in York, Pennsylvania. He graduated from the University College Hospital, University of Ibadan, in Nigeria with internship and residency training at the Royal College of Obstetricians and Gynecologists, Cornwall Regional Hospital in St. James Parish, Jamaica. He then completed his internal medicine training at The Brooklyn Hospital Center in New York and his hematology and medical oncology fellowships at the State University of New York. "I've been practicing in the field for over a decade. I am fortunate to have been able to see, through the last several years, concepts and ideas that we thought would make sense, being tested out in the bench with a basic science research, and over the years, transcend and come to fruition, in terms of what we're able to deliver and results and outcomes we're able to get for our patients," said Efiom-Ekaha.
Maen Hussein, M.D. Hussein is a medical oncologist and hematologist at Florida Cancer Specialists & Research Institute (FCS) and has recently been elected to serve as president in 2024 for the Florida Society of Clinical Oncology (FLASCO) board of directors. He joined FCS in 2011 after finishing his residency at Brown University's Memorial Hospital in Pawtucket, Rhode Island. Hussein also serves on the Finance Committee of the FCS executive board and on the FCS Foundation board of directors, of which he is the immediate past chair. "Oncologists strive to get patients to remission, maintain quality of life, prolong survival, and I wanted to be part of this. You can see the advances we have had in the last 20 years…Every success motivates us to do even better," said Hussein.
"We are honored to acknowledge the outstanding contributions of these Oncology Icons," said Erik Lohrmann, senior vice president of, oncology and urology. "Their work has transformed the field of oncology, and we are grateful for their relentless dedication to improving the lives of cancer patients."
Targeted Oncology will also feature in-depth profiles of each recipient in an article published in Targeted Therapies in Oncology and on the Targeted Oncology website, offering readers an opportunity to gain insights into their remarkable journeys and contributions to the oncology community.
Submissions for the Oncology Icons award program are accepted on a rolling basis throughout the year. To submit a nomination, please click here.
About Targeted Oncology
Targeted Oncology, a leading resource for oncologists and hematologists, empowers practice-changing outcomes through innovative learning formats and peer engagement. Its journals, Targeted Therapies in Oncology and Peers & Perspectives® in Oncology, are delivered 18 times a year. TargetedOnc.com offers daily content and an e-newsletter subscription and hosts 500-plus virtual and in-person events annually, fostering engaging discussions among oncology peers. Targeted Oncology is a brand of MJH Life Sciences®, the largest privately held, independent, full-service medical media company in North America delivering trusted health care news.
Media Contact:
Lauren Garafola
MJH Life Sciences
[email protected]
A photo accompanying this announcement is available at https://www.globenewswire.com/NewsRoom/AttachmentNg/5a714c66-faf7-4799-83ce-b897f3b92bdd


Originally published at https://www.einpresswire.com/article/668765327/targeted-oncology-announces-recipients-of-its-oncology-icons-award-program