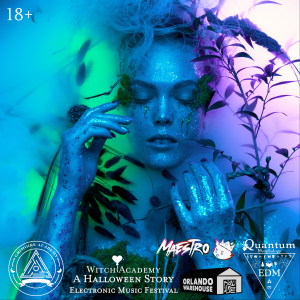 Electronic Music Festival in Orlando, Florida for Halloween.
Quantum Morphology is a festival co. for festivals, immersive fashion, imagination design & dance
Quantum is crafting themed festivals for people who love to embrace immersive environments with a deep passion for creative arts. We're building something beautiful for literally everyone."
— Quantum Team
ORLANDO, FLORIDA, UNITED STATES, October 27, 2023 /EINPresswire.com/ — This October 28th, 2023: A Halloween Story takes Orlando for another regional music festival with Grimoire Academy and Quantum EDM. The event runs at Orlando Warehouse with indoor and outdoor elements (Central Florida Fairgrounds).
After 5pm, the gates will open to let hundreds of Halloween lovers through the gates dressed in costume for a spooky night out. With over 13 DJs, the night is going to rock the city with magic, taking on the mystical theme of "Electronic (Witch) Academy" – drawing on ideas of Grimoire Academy's fictional university of Folklore, Horror, and Magic. The festival itself takes on a "college" themed approached for Witches, Monsters, Vampires, and beyond. Class is in session.
Tickets are affordable and can be obtained through www.quantumedm.com
—
Quantum DJs will be taking the stage with Headline debut for "The Archaeologist, Snaggletooth, Lawr, Impulse Live, DJ Jaks, Weebalicious, Rave Jesus, TRVN, and others that can be located on the Quantum website." With special appearances from the super talented dance team, Delic Dreamz, and Quantum EDM's most amazing energy drink associate, MAESTRO (bethemaestro.com), the event will feature two different stages. [Special Thanks to Maestro DJs, Shaman, Tha Oni, Aurora, Kaiju Panic, and Geminitrix].
A Great thanks to Orlando Amphitheater and Central Florida Fairgrounds for building fun, safe, and professional events for the Orlando community. Quantum will be on the dance floor in full fashion with all different types of house, dance music, and beyond.
More details about event origins are below.
—-
What is A Halloween Story?
Over the past several years, Grimoire Academy has been developing themed festival experiences for Halloween lovers and themed-festival attendees: inspired by cinematics, film, pop-culture horror, and comics. With variations in themes, keeping a general "witchy" theme, Grimoire has embarked on a journey of creating dark and spooky events with DJs, Costumes, Fashion, some celebrities, and unique, high-love environments focused on peace, love, and happiness.
Why does it matter?
Halloween has always been one of the most special times of year for the Grimoire team, running themed events has been something that has been the whole brand and the costumes that come along with it are so valued and beloved. Nobody wants to have a boring Halloween (and trust us, it happens). There have been a multitude of variations of this event, from a fair-style event to a full-blown music festival (The Dark Witch 2021): with over 50+ vendors, tarot readers, and celebrities, like Erik Bloomquist (award-winning director), Caroline Williams (Texas Chainsaw Massacre II), Alice Kremelberg (Orange is the New Black) and popular Actor and Artist, Colby Boothman (Jurassic World, Star Wars Battlefront, Salem)
How does this event differ?
A Halloween story is thoroughly inspired by immersive cinematographic environments and classic festivals like Woodstock which focused on comparative kindness experiences (peace, love, happiness). While still hitting EDM as a focal point and driving home original festival-style events, the corporation, still building, is focused on a production that caters to the community and the general empowerment of pure happiness and joy at events rather than A-listers and bottle-service/VIP-based concepts. It brings in a refreshing, new, and enlightened demographic with an openness to fashion, cross-cultural empathy, and widespread backgrounds, sexualities, and pop-cultural interests
This enriching festival, hosted by Grimoire Academy LLC and Quantum Morphology (EDM) is going to be filled with hours of music, concessions, vendors, and vibrance: with cheaper ticket options, a strong social community that calls for respect and care for one another, and events focused on costume/fashion, and nerdy pop-culture topics or spooky embrace.
Live Lovecraft, but wait, there's more…
Our press release this year still calls for something else about Quantum: although the corporation is young, and acknowledges a rather difficult time for people in the economic sphere, the production teams are working around the clock to try to keep costs as low as possible for attendees, despite the taxing costs of events and festivals. Quantum has been upregulating a grass-roots movement. The company has not solicited any funds from sponsors (although seeking these), incubators, investors, or banks.
Address:
Orlando Amphitheater, Warehouse, Central Florida Fairgrounds
4603 W Colonial Dr, Orlando, FL 32808
Joey Veluna
Quantum Morphology
+1 401-248-4956
email us here
Visit us on social media:
Facebook
Twitter
Instagram
YouTube
Other
Teaser


Originally published at https://www.einpresswire.com/article/664688499/a-halloween-story-edm-festival-orlando-october-28th-2023