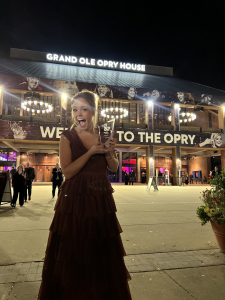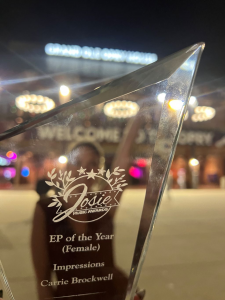 New Song releases November 3rd
~Virginia-Based Singer-Songwriter's "If Even Years Go By" drops this Friday, November 3rd~
I am so thankful for everyone who worked on this project with me. Thank you for helping me create my first release, and make my dreams come true. I love you all so much!"
— Carrie Brockwell, rising singer-songwriter
RICHMOND, VA, UNITED STATES, November 2, 2023 /EINPresswire.com/ — Rising singer-songwriter and former American Idol contestant, Carrie Brockwell, recently took home the coveted "EP of the Year" (Female) award for her EP "Impressions" at the 9th Annual Josie Music Awards (JMAs). The JMAs, held at the Grand Ole Opry House Sunday October 22nd, is the largest, most prestigious award ceremony held annually for the independent music industry.
"I am so thankful for everyone who worked on this project with me. Dan Uphoff and all of the fabulous musicians-John Small, Julia Meredith, Brian Fechino, Daniel Clarke, and Michael Lille. This wouldn't have been possible without you. Also, a huge thank you to Colleen Kranz at Social Alchemy for designing the artwork and to Tom Topinka for shooting the fabulous photos!! Thank you all so much for helping me create my first release, and make my dreams come true tonight. I love you all so much!" said Brockwell.
Carrie also received Josie Award nominations for Song of the Year for her track "Dizzy" and the Fan's Choice Award for artists under 18 categories.
Brockwell was also one of only five artists selected to play the pre party gala at the Josie Music Awards pre-party gala held at the Grand Ole Opry's 'Studio A' the night before the JMA's.
This week, Carrie is gearing up for the release of her highly anticipated next release "If Even Years Go By," scheduled to launch Friday, November 3rd and available to pre-save.
Co-written with acclaimed Nashville songwriter Britton Cameron (best known for his work with Lonestar, John Pardi and more), the song is a heartfelt tribute to bygone times. With emotive lyrics complemented by Carrie's captivating vocals, "If Even Years Go By" takes listeners on an evocative journey, encouraging them to cherish every moment, as the true value of life is often realized only after it has passed.
Inspired by her namesake and fellow American Idol alum, Carrie Underwood, Carrie Brockwell aspires to carve out her own lasting and prosperous career in the music industry. Carrie's passion for music has been a lifelong journey, with her debut on stage at the tender age of 3. She has also made her mark in the world of musical theatre, receiving rave reviews for her performance in the lead role of "Annie" at the age of 11 and, most recently, "Joseph and the Amazing Technicolor Dreamcoat."
Carrie Brockwell is a member of the PCG Universal artist roster, headed by CEO Bernard Porter, known for his exceptional eye for identifying emerging talents. Porter played a vital role in signing a young Jason Aldean to a major label recording contract. PCG's President, Jennifer McGill, a former Disney Mouseketeer, brings a unique perspective to guiding artists' careers, having worked alongside teen talents including Christina Aguilera, Ryan Reynolds, and Britney Spears.
Fans can keep up with Carrie Brockwell's latest music releases, upcoming performances, and more by visiting her official website www.carriebrockwellmusic.com and following her on all social media platforms.
For media inquiries, please contact:
Shaili Priya/ Burke Allen
Allen Media Strategies
+1 703-589-8960
[email protected]
Visit us on social media:
Facebook
Twitter
LinkedIn
Instagram


Originally published at https://www.einpresswire.com/article/665625551/carrie-brockwell-american-idol-alum-wins-prestigious-josie-music-award-and-releases-new-single