Emilia Vaughn "Too Quick To Blush" – Album Artwork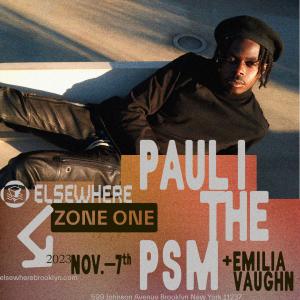 Pauli The PSM + Emilia Vaughn – Elsewhere – Zone One Flyer – Brooklyn, NY 11.7.23
Emilia Vaughn announces New Music, an upcoming live performance in Times Square NYC on Halloween, and Tour support for Pauli The PSM in Brooklyn November 7.
This song reminds listeners never to doubt oneself or place your worth in a single person when there are countless avenues to discover genuine love and appreciation."
— Emilia Vaughn
NEW YORK, NY, USA, October 27, 2023 /EINPresswire.com/ — Emilia Vaughn is rapidly gaining popularity as new fans and the industry take notice of her authentic self-branded image, relatable music, and growing independent success. With multiple chart-topping hits on iTunes, a Top 40 Mediabase seat alongside the most prominent artists in the world, and a growing catalog of hit songs and original music, Vaughn is making an impact in the music industry. Today, October 27, 2023, Emilia Vaughn released her 9th self-written original song, "Too Quick To Blush," and announced her upcoming live appearances, which include the Wonderama stage in Times Square NYC on Halloween day, sharing a lineup with Stefan Benz, as well as the stage at Elsewhere – Zone One in Brooklyn on November 7, at 8:00 pm, where she will perform a solo opening set for Pauli The PSM.
Emilia Vaughn's latest single, "Too Quick to Blush," is a moving, emotional ballad about going all-in in a relationship that unexpectedly gets cut short. It was released independently under Emilia Vaughn Entertainment and Media Group, LLC, with the support of Dani N Thompson and DNT Entertainment. The song was written by Emilia Vaughn, with lyrical support from Chlo Subia, and produced by Robbie Dean of OC Hit. The album artwork was creatively self-directed by Emilia Vaughn.
Delving into the intricacies of heartbreak, "Too Quick to Blush" paints a poignant picture of a relationship that unraveled without closure. Vaughn's soulful lyrics and haunting acoustic melodies resonate with listeners, capturing raw emotions felt in breakups with a depth that is both relatable and cathartic. Vaughn sings, "Can't explain the taste of you not wanting me too," expressing the pain of unrequited love. With the mellow atmospheric production of guitar and keys, Vaughn's heartfelt vocals shine and haunting harmonies satisfy.
"I wrote this song nearly three years ago, and it brings me immense joy to finally unveil it to the world. High school presented its fair share of challenges. Like many other young adults, I found myself seeking solace in romantic relationships. I tried too hard and invested too much of my sense of self-worth in and searched for value from a single boy who barely knew me and did not treat me with dignity and respect. I realized how unhealthy, and unfortunately too common, this is. This song reminds listeners never to doubt oneself or place your worth in a single person when there are countless avenues to discover genuine love and appreciation. We all should be treated with dignity and respect."

– Emilia Vaughn
In addition to "Too Quick to Blush," Emilia Vaughn also wrote and debuted her new song "One in a Million" at Athena's Lifting While Climbing Summit & 25th Anniversary Gala on October 26, at the Conrad Prebys Performing Arts Center in La Jolla, California. Athena advocates for women's equality in professions involving science, technology, engineering, and mathematics. Emilia Vaughn's new song spreads a message of positivity and hope for the future of gender equality. For a limited time, an acoustic self-produced version of this song will be exclusively available on Bandcamp and open for donations. After meeting a $3,500 production donation goal, Emilia will professionally produce and distribute this song and donate a minimum of 50% of all its digital streaming proceeds to Athena, a global non-profit advocacy organization advancing one million women leading in STEM by 2030.
"Too Quick to Blush" is now available on all digital streaming platforms. For more information about Emilia Vaughn, please visit www.emiliavaughn.com and visit her social profiles below.
Spotify: https://open.spotify.com/artist/4VgJ0UD0zECXTaxPsEpbwk?si=rYDK6osBRoOt7kXT5hHa6Q

Instagram: https://www.instagram.com/emiliavaughn/

YouTube: https://www.youtube.com/@emiliavaughn

TikTok: https://www.tiktok.com/@emiliavaughn

Twitter: https://twitter.com/emiliavaughn_
Listen to "Too Quick to Blush": https://ffm.to/emiliavaughn_tqtb

UPC: 853515442991

ISRC: QZTB42370596
Upcoming Shows/ Live Appearances:

October 31, 2023 @ 11 am EST – Time Square, NY (46th & Broadway) on the Wonderama Stage – FREE & Open to the Public
November 3, 2023 @ 8:00 pm EST – Wyndham Boston Beacon Hill – 5 Blossom St, Boston, MA 02114, USA 15F
Ticket Link: https://www.sofarsounds.com/events/52674?utm_medium=email&utm_source=transactional&utm_campaign=ArtistAdvance
November 7, 2023 @ 8:00 pm EST – Elsewhere – Zone One – Opening Act for Pauli The PSM – 599 Johnson Ave, Brooklyn, NY 11237
About Pauli The PSM:

Pauli has been credited as musical director for Jamie xx, fka Twigs, Maggie Rogers and as touring drummer with Damon Albarn, Bobby Womack, Robyn, Kelsey Lu, and most notably, the musical director and percussionist for Harry Styles' LOVE ON TOUR. 2023 saw the release of his confident dance cut, 'Saucy' (FADER), featuring Ariza, which debuted live at Wembley Stadium opening for Harry Styles. The Saucy Tour US announcement soon followed, with headline club dates coming this fall. He recently kicked off a 25-night run as U2's Atomic MC / DJ, opening for their highly-anticipated Vegas residency at the Sphere.
Ticket Link: https://dice.fm/partner/dice/event/6nnq7-pauli-the-psm-emilia-vaughn-7th-nov-elsewhere-zone-one-new-york-tickets
More about Emilia Vaughn:

Emilia Vaughn is an American alternative pop singer-songwriter from San Diego, California, and currently in her sophomore year at Berklee College of Music in Boston. Since her public introduction to the music industry in January 2021, Emilia has independently released nine original songs, including her debut five-song EP "eighteen." Her single "Sunflower" peaked at #47 on the All Access "What's in Store" retail play charts in the fall of 2022, and her supporting music video for both "Sunflower" and "French Film" premiered on MTV Spankin' New, AXS TV's Music High Five, Loop TV and Nick Music. In the spring of 2023, "Sunflower" was picked up by Top 40 radio, Sirius XM "Train Tracks," and had a 15-week run on the Top 40 Mediabase Activator Charts, peaking at #40 in the summer of 2023. Her most recent single, "Watch the Moon," peaked at #17 on the iTunes charts on release week in July of 2023. Emilia Vaughn is driven to reduce the stigma associated with mental health by creating a community of confident, loving, and open-minded individuals.
Dani Thompson
DNT Entertainment
+1 213-326-4007
email us here
Visit us on social media:
Twitter
LinkedIn
Instagram
YouTube
Other


Originally published at https://www.einpresswire.com/article/664223230/emilia-vaughn-releases-new-single-too-quick-to-blush-and-announces-upcoming-east-coast-shows