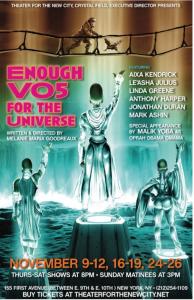 NEW YORK, NY, UNITED STATES OF AMERICA, November 8, 2023 /EINPresswire.com/ — Building on the triumph of her groundbreaking production, "THE WHITE BLACKS," celebrated playwright and director Melanie Maria Goodreaux is poised to enthrall audiences once more with a fresh rendition of "ENOUGH VO5 FOR THE UNIVERSE," featuring a special appearance by veteran TV star Malik Yoba and The Walking Dead's Aixa Kendrick.
This limited engagement of 12 performances will grace the Theater for the New City stage in the East Village from Thursday, November 9th to Sunday, November 26th, 2023.
"I love the bravery of the actors and other creatives I'm working with," playwright and director Goodreax says. "I use absurdity to poke fun at the challenges Black women face. It makes some people split their sides laughing, some shed tears, while others get 'uncomfortable.' That's part of where it's at for me. I think a teeny bit of discomfort that you have to laugh about, gets us somewhere new."
"ENOUGH VO5 FOR THE UNIVERSE" unfurls within an Afro-futuristic apocalyptic setting in the United States of 2097. The story immerses us in the lives of three extraordinary Black women, members of the enigmatic "Solution" monastic order. Guided by W.E. Dubois' ideals of the Talented Tenth, their mission drives them to a momentous decision: a radical transformation of the world. What follows is a narrative that seamlessly interweaves comedy, drama, and unforeseen twists, transcending the stage and inviting the audience into an entire universe.
Melanie Maria Goodreaux's talent for crafting narratives that resonate deeply with audiences has firmly established her as a luminary in the downtown NYC theater scene. Her works have graced renowned venues, including Chelsea Playhouse, the House of Tribes Theater, the Abingdon Theater, Studio Players Theater, the Linhart Theater, the Lillian Theater in Los Angeles, the Nuyorican Poets Café, HOWL Fest, the New York Theater Festival, the Hudson Guild Theater, and Theater for the New City and The Foundry. Goodreaux recently earned acclaim with the American Woman Project Solo-Play Development and Production award (2020-2021).
Crafted and directed by Melanie Maria Goodreaux, the ensemble of "ENOUGH VO5 FOR THE UNIVERSE" features Aixa Kendrick (The Walking Dead), Le'Asha Julius, Linda Greene, Anthony Harper, Jonathan Duran, Mark Ashin, and a special appearance by Malik Yoba as "Oprah Obama Omama."
"I'm so honored to jump into the bodacious boots of this intense and deliciously complicated dystopian despot for the third time!" says Aixa Kendrick, a reoccurring actress on "The Walking Dead: Dead City." "Melanie's voice is so bold, and her vision so visceral and cinematic. Melanie gives actors piercing, poetic, and daring text and characters to bite into. Seering, zany, and juicy. Plus, this cast and crew are bringing it! Dynamic and divine!"
The Creative Team includes: Animations and Graphics by Tim Fielder, Cinematography and Sound Design by Boston Fielder, Video and Sound by Anthony Harper, Lighting Design by Alexander Bartenieff, Set Design, Props, and Costumes by Lytza Colon, Sara Jane Munford, and Devyn Mackey.
Production Team: Co-Producers Bruce Morrow and Mark Holloway, Associate Producer Norah Lawlor, Stage Manager is Christopher Bello, Directed by Melanie Maria Goodreaux.
Additional Information:

• Dates: Thursday, November 9th – Sunday, November 26th, 2023

• Show Times: Wednesday – Saturday at 7:30 PM, Sunday at 3:00 PM

• Location: Theater for the New City, 155 First Avenue, New York, NY 10003

• Tickets: $20 general admission, $15 students and seniors. To Purchase tickets: https://bit.ly/470vVqd
About: Theater for the New City:

Theater for the New City has hosted playwrights and actors such as Suzan-Lori Parks, Sam Shepard, Lanford Wilson, Charles Busch, Vin Diesel, Academy Award nominee Chazz Palminteri, and the late Academy Award winner Philip Seymour Hoffman. "It's a theater that encourages artists to push the limits of artistic expression in the performing arts," says playwright and director Melanie Maria Goodreaux, who's having her fifth production at Theater for the New City.
Norah Lawlor
Lawlor Media Group, Inc.
+1 212-967-6900
email us here
Visit us on social media:
Facebook
Twitter
LinkedIn
Instagram


Originally published at https://www.einpresswire.com/article/667173146/post-apocalyptic-drama-enough-vo5-for-the-universe-returns-to-theater-for-the-new-city