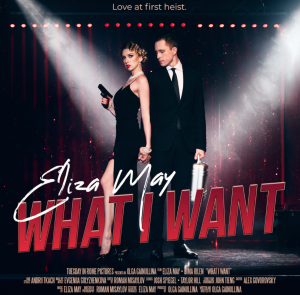 Singer, DJ, Music Producer Eliza May Releases Single and Unpredictable Music Video – Gives Fans "What You Want"
With stunning visuals and an incredible soundtrack, this music video breaks boundaries and will leave you in awe."
— Eliza May, singer/ DJ/ music producer/ travel blogger
LAS VEGAS, NV, UNITED STATES, July 5, 2023/EINPresswire.com/ — Eliza May is a multi-talented artist who is making waves in the music industry as a singer, DJ and music producer. With a blend of pop, electronic and R&B music, Eliza's empowering vocals and strong lyrics are sure to inspire and motivate her listeners.
Eliza's energetic performances have taken her to numerous countries such as France, Malta, Russia, Taiwan, Mauritius, India, Nepal, and beyond, making her a true global performer. As a resident of the prestigious TAO nightclub in Las Vegas, Eliza has also performed at celebrity events featuring Bella Hadid, Jeremy Renner, Avril Lavigne, Sasha Belair, and Steve Aoki.
Eliza is not only a talented DJ, but also a passionate singer and advocate for women's empowerment. Her chart-topping song "Empress" serves as a powerful anthem that celebrates the beauty and strength of women. In addition to her music, Eliza launched an inspiring campaign where she gave crowns to 28 women in Los Angeles, reminding them of their worth and value. Her latest release, "What I Want," is a motivational call to action that encourages people, particularly women, to pursue their dreams and turn them into a reality.
Alongside her music career, Eliza is also a passionate lifestyle and travel blogger, sharing her solo-travel experiences with her followers on social media. Eliza's positive message and uplifting spirit make her a true inspiration for women all over the world.
"'What I Want" is a manifestation song about understanding what you want and getting it. I aim to inspire and empower my listeners to pursue their dreams and manifest their deepest desires. I'm starting a trend where people will post their vision boards to my track which will help them on deciding what they truly want in life and will help to make these desires a reality. The track is also infused with energies of Reiki and cosmo-energy for dreams to come true fast."
"The music video is like a mini movie. It involves secret agents and has an unpredictable plot. Even after watching it you might be left with some questions. Ultimately, it's about a woman who knows what she wants and she's getting it no matter what. It's a captivating journey that showcases her unstoppable spirit and will leave you inspired. With stunning visuals and an incredible soundtrack, this music video breaks boundaries and will leave you in awe." – Eliza May, singer/ DJ/ music producer/ travel blogger
Stay up on the all the latest with Eliza May on social media on Instagram: https://www.instagram.com/djelizamay/, Twitter: https://twitter.com/djelizamay, YouTube: https://www.youtube.com/@ElizaMayTv/videos and Facebook: https://www.facebook.com/DjElizaMay/.
Rive Music Video Team
Rive Video
+1 908-601-1409
email us here
Eliza May – What I Want (Official Music Video 2023)


Originally published at https://www.einpresswire.com/article/640926264/singer-and-dj-eliza-may-gives-fans-what-you-want