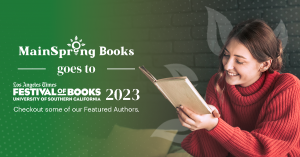 Patti Smith Grateful for the Resounding Success of "The Shingle Weaver's Picnic" showcased at LATFoB 2023
Lit a fire in my heart for reading! It was a trip back in time portraying how the realities of war left devastating effects on many families, but also brought each other together."
— Julianna Brundage
LOS ANGELES, UNITED STATES, July 7, 2023/EINPresswire.com/ — Renowned author Patti Smith appeared captivatingly at the highly anticipated Los Angeles Times Festival of Books (LATFoB) 2023. Smith shared insights into her latest novel, "The Shingle Weaver's Picnic," a gripping tale set against the backdrop of World War II. The event occurred at the University of Southern California on April 22-23, 2023.
The LATFoB 2023 provided an excellent opportunity for attendees to engage with Patti Smith firsthand. Smith's presence at the festival allowed fans to gain deeper insights into the inspirations and creative process behind "The Shingle Weaver's Picnic." Visitors enjoyed an informative and thought-provoking discussion that sheds light on the book's historical context and the transformative power of storytelling.
At 260 pages, "The Shingle Weaver's Picnic" delved into the harrowing realities of 1941, when the world was engulfed in darkness and uncertainty. Smith masterfully explored the impact of war on the lives of ordinary individuals, highlighting the loss of innocence and the triumph of the human spirit. The story revolved around Annie Elizabeth Jordan, fondly known as Cricket, as she navigated the perplexing turbulence of war and a mysterious murder that shocked her town.
Readers and critics were captivated by Smith's ability to transport them back in time with her vivid storytelling. Julianna Brundage, a reviewer, raved, "Lit a fire in my heart for reading! It was a trip back in time portraying how the realities of war left devastating effects on many families, but also brought each other together."
Expressing her gratitude for the overwhelming support, Patti Smith is incredibly grateful for the readers who have embraced 'The Shingle Weaver's Picnic' and made it a part of their literary journey. Their enthusiasm has been truly humbling, and Smith was delighted to meet them at the Los Angeles Times Festival of Books this year.
For more information about Patti Smith and her captivating novel, please visit her official website at https://theshingleweaverspicnic.com. "The Shingle Weaver's Picnic" is available at major book retailers.
To experience the magic of the Los Angeles Times Festival of Books 2023 and gain a unique insight into Patti Smith's thoughts behind "The Shingle Weaver's Picnic," be sure to watch the recorded event at https://youtu.be/hgO4ih011iA. Witness the captivating dialogue, the shared passion for literature, and the heartwarming interactions that make this occasion not to be missed.
Bright Chavez
MainspringBooks
+1 323-407-8151
email us here
Visit us on social media:
Facebook
P.C. Smith's Unforgettable Author Interview at the LATFoB 2023
Originally published at https://www.einpresswire.com/article/643545026/patti-smith-grateful-for-the-resounding-success-of-the-shingle-weaver-s-picnic-showcased-at-latfob-2023