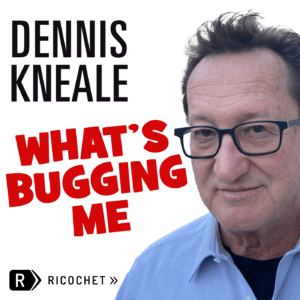 'A Little of Me Goes a Long Way," Host Says
NEW YORK, NEW YORK, UNITED STATES, October 31, 2023 /EINPresswire.com/ — From the first week Dennis Kneale began hosting the "What's Bugging Me" podcast on the Ricochet platform, now 50 episodes ago, he knew he had to follow one cardinal rule. "Guests. We gotta have guests," Kneale says now.
Drawing off his three-decade career as a business journalist with hundreds of contacts, Kneale has filled his weekly podcast with an impressive array of guests. They run the gamut, ranging from high-ranking, powerful people to rank-and-file, "real" people talking about their own lives.
Kneale learned the value of a good guest when he solo anchored an 8 p.m. primetime show nightly on CNBC in the wake of the Great Meltdown of 2009. "I learned then: a little of me goes a long way," Kneale says.
Guests were the key, he said, and the same is true on his podcast, "What's Bugging Me," now in its 50th episode. You can find it here on Ricochet, and here on Apple Podcasts.
Among the guests whom Kneale says he has been "so fortunate" to book:
–Tal Hartuv and Asra Nomani. Tal is a Jewish citizen of Israel, and Asra is a Muslim and former Wall Street Journal reporter.
https://ricochet.com/podcast/whats-bugging-me/overcoming-inhumanity/
–Brandon Straka, founder of the Walk Away movement.
https://podcasts.apple.com/us/podcast/no-one-is-above-this-podcast/id1657007934?i=1000617987278
–Carol Roth, Fox News contributor and author of "You Will Own Nothing!"
https://podcasts.apple.com/us/podcast/whats-bugging-me/id1657007934?i=1000621781133
–Kim Strassel, Potomac Watch columnist for The Wall Street Journal.
https://ricochet.com/podcast/whats-bugging-me/rinse-and-repeat/
–Former Undersecretary of State Keith Krach.
https://www.youtube.com/watch?v=nkCR7SaqLvo
–Lanny Davis, former advisor to President Clinton.
https://www.youtube.com/watch?v=3gTHoYHv9H8
"What's Bugging Me" also offers interviews with less well known figures who have fascinating stories to tell. They include:
–New York adman Jack Maley, who set a world record for the bench press: 360 pounds. Even better, it was a world record for men over age 65.
https://ricochet.com/podcast/whats-bugging-me/internal-affairs/
–Rochester, N.Y. dentist Ned Nicosia, who false charges of racism.
https://podcasts.apple.com/us/podcast/atlantas-ham-sandwich/id1657007934?i=1000624797864
–ESPN tennis commentator Douglas Adler.
https://ricochet.com/podcast/whats-bugging-me/cancel-this-its-a-riot/
–Michael Robison, on life's transitions: he owned a jewelry business, became a pastor, married and raised children, left the cloth, came out as gay, and married a husband now saves endangered primates.
https://ricochet.com/podcast/whats-bugging-me/a-glorious-fourth/
Says Kneale: "Podcasting is a great format for longer conversation. You really get a chance to listen, and the more we listen, the better off we are in life."
# # #
Dennis R Kneale
Dennis Kneale Media
+1 917-933-5028
email us here
Visit us on social media:
Facebook
Twitter
LinkedIn
Other


Originally published at https://www.einpresswire.com/article/664939956/what-s-bugging-me-guests-run-the-gamut