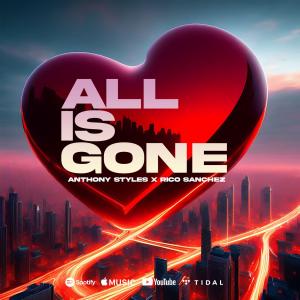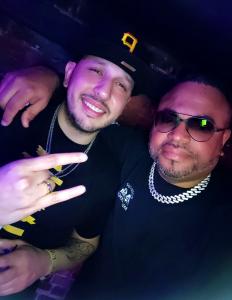 Anthony Styles and Rico Sanchez hanging out in Tampa's Eden Nightclub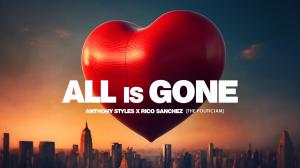 Rising stars in music industry, producers Anthony Styles & Rico Sanchez, announce the release of their debut single, "All is Gone."
'All is Gone' is a groundbreaking introduction to the music world by Styles and Sanchez, fusing genres for a unique sonic experience."
— Jonathan Sassen
ATLANTA, GA, USA, June 16, 2023/EINPresswire.com/ — Rising stars in the music industry, producers Anthony Styles and Rico Sanchez, are thrilled to announce the upcoming release of their highly anticipated debut single, "All is Gone." Set to hit the airwaves on June 16th, 2023, the dynamic duo is poised to make an indelible mark with their electrifying sound and undeniable talent.
"All is Gone" represents a groundbreaking introduction to the music world by Styles and Sanchez. With their fresh and innovative approach, the duo brings a fusion of genres, combining elements of electronic music, R&B, and pop to create a truly unique and captivating sonic experience.
Driven by their passion for pushing creative boundaries and a shared vision for making music that resonates, Styles and Sanchez have poured their hearts and souls into the creation of "All is Gone." The single showcases their distinctive artistic voices, blending mesmerizing melodies, soulful vocals, and infectious beats into a spellbinding composition that will leave listeners wanting more.
As emerging artists, Anthony Styles and Rico Sanchez are already making waves in the industry. Drawing from their diverse musical backgrounds and their determination to carve out their own unique sound, they have garnered attention for their undeniable talent and ability to captivate audiences. "All is Gone" is poised to solidify their position as promising newcomers with a bright future ahead.
In anticipation of the release, Styles and Sanchez have planned an array of exciting promotional activities, including intimate live performances, engaging interviews, and exclusive behind-the-scenes content. Fans can look forward to an accompanying music video that visually encapsulates the essence of "All is Gone," further enhancing the overall experience of the track.
"All is Gone" will be available for streaming and digital download on all major platforms, allowing music enthusiasts worldwide to discover the vibrant soundscape crafted by Styles and Sanchez. The release date, June 16th, 2023, marks an important milestone in their budding careers, and fans are eagerly counting down the days.
Stay up to date with the latest news, updates, and exclusive content from Anthony Styles and Rico Sanchez by visiting their official websites at www.djanthonystyles.com | www.djricosanchez.com.
Press Contact:
Name: Jonathan Sassen
Email: [email protected]
Phone: +1 (404) 834-9059
About Anthony Styles:
Anthony Styles is an exciting new artist and producer who is making a name for himself with his unique and genre-defying sound. With a fresh blend of electronic, R&B, and pop influences, Styles is captivating audiences with his vibrant musical style. As an emerging artist, he is already turning heads and establishing himself as a rising star in the industry.
About Rico Sanchez:
Rico Sanchez is an emerging artist and dynamic producer known for his infectious melodies and versatile musical style. Drawing inspiration from a range of genres including hip-hop, Latin music, and electronic music, Sanchez brings a fresh and captivating sound to the table. With his undeniable talent and dedication, he is quickly making his mark in the music scene.
Jonathan Sassen
Rico Sanchez Entertainment, LLC
+1 404-834-9059
email us here
Visit us on social media:
Facebook
Twitter
Instagram
YouTube
TikTok
All is Gone – Anthony Styles & Rico Sanchez [The Politician]


Originally published at https://www.einpresswire.com/article/639868336/emerging-artists-styles-sanchez-unveil-their-debut-single-all-is-gone-on-june-16th-2023