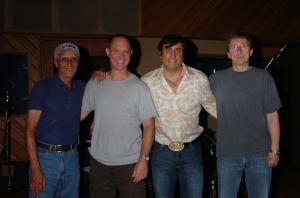 John Krondes with American Sound Studio Band Musicians
Elvis Presley with the American Sound Studio Band
Elvis Lives! Lost Memphis Sound Magically Returns To Radio Stations Worldwide Via New Memphis Rock Recordings By John Krondes And Elvis Presley Music Entourage
LOS ANGELES, CA, UNITED STATES, August 16, 2023/EINPresswire.com/ — — HOLLYWOOD NEWS…. The Spirit Of ELVIS Is Rising! August 16, 2023 marks the 46th anniversary of King Elvis Presley's death. This year the millions of fans re-mourning the passing of ELVIS are now instead celebrating THE RETURN OF THE MEMPHIS SOUND!!! The #1 movie ELVIS has come to THE END; however by Order Of Rock 'N Roll Heaven, THE END is A New Beginning. We are happy to report, that there is mass confusion at radio stations all across planet Earth. CDX Nashville together with Sony Music / Orchard first released THE END by John Krondes and The Jordanaires concurrent with the ELVIS movie along with Joe Esposito's ELVIS ALIVE – A New Beginning Radio Special. Radio stations worldwide have begun playing the New Memphis Rock recordings by John Krondes and Elvis Presley's original music entourage to millions of fans longing again to hear that distinct and adored Memphis Sound. On the noted anniversary of Elvis Presley's passing, over a thousand key radio stations on Planet Earth have unexpectedly received and are playing for fans the 2nd John Krondes single A DREAM FOR PEACE. A medley of "If I Can Dream", the song Elvis Presley sang in the '68 Comeback Special, and "Classical Dream", the world's airwaves are surprisingly now playing the very first (1st) new recordings by Elvis Presley's original musicians together with Singer/Songwriter John Krondes.
Several reports are coming in of bewildered listeners calling radio stations asking "Is This Elvis Presley?" Bafflement seems to be the norm and for good reason. On the record A DREAM FOR PEACE with John Krondes is remarkably the American Sound Studio Band that recorded "Suspicious Minds" with Elvis Presley in 1969. In addition are the original Jordanaires, Stamps, Imperials, Sweet Inspirations, Millie Kirkham, Elvis Horns, and more. Even more mystifying is the viral news that John Krondes has near 100 New Recordings with Elvis Presley's original musicians, and now with even more music legends. The John Krondes masters also include Elvis Presley's TCB Band, the King's drummers DJ Fontana, Gene Chrisman, and Ronnie Tutt, and many other musicians that played on hundreds of Presley's recordings. Elvis Presley's Best Friend and 20 Year Road Manager Joe Esposito headed the John Krondes and Elvis Hit Making Team project and started waves of new recordings until his death in 2016.
Super-fantastically, many of the world's biggest music distributors and promoters have also recently joined the John Krondes and Elvis Hit Team project to bring this momentous new Memphis Rock Music to the world. A DREAM FOR PEACE medley is hitting radio stations all across the world thanks to the efforts and support of CDX Nashville, All Access Nashville, Musik Radio Promotions, AirPlay Direct, AirPlay Express, Yangaroo/DMDS, and now PlayMPE. New E-Blasts over the past week have additionally concentrated on radio and media in the UK, Ireland, Europe, Australia, New Zealand, Canada, USA and more. Radio Stations, Media, and Fans, can download and stream A DREAM FOR PEACE and 2 Radio Specials here from CDX Nashville https://us12.campaign-archive.com/?e=__test_email__&u=662b4c46b7c6bca79a05dfa9c&id=73dc6960ef and AirPlay Direct https://AirPlayDirect.com/elvisaliveradiospecial * https://AirPlayDirect.com/ADreamForPeace * https://AirPlayDirect.com/johnkrondes
Psychic To The Stars John Cohan explains "IT'S ALL CONNECTED". Psychic John Cohan, who predicted Lisa Marie Presley's recent passing states the John Krondes and Elvis Presley connection was celestially meant to be. Psychic John Cohan's Lisa Marie Presley prediction made on New Year's Day 2023 has been awed, acclaimed, and published worldwide. The New York Post's Cindy Adams published John Cohan's predictions for 36 years in a row. Journalist Liz Braun of the Toronto Sun has said that John Cohan outdid himself, and Erika Dee of Music Times call's John Cohan's Lisa Marie Presley prediction Eerie. Music Times adds, "The fact that of all the places, Presley's said destination for this year is a sacred institution is just eerie to consider along side the artist's death". The music and entertainment industry are scratching their heads for an explanation. John Krondes has quickly become Hollywood's Mystery Man. Psychic John Cohan repeatedly says to "look up into the sky for the answer".
Music fans are turning sadness into rejoice as the Memphis Sound Has Returned To The World's Airwaves! The good news is that The Next Chapter Of The Memphis Sound Is Here and There's A Lot More Memphis Rock Music Coming (https://youtu.be/DulE8cJGSgM)!
Follow John Krondes on Instagram, Facebook, and Twitter @johnkrondes for Rock 'N Roll News, music, and information. Check Out the John Krondes Interview on CMR Nashville (Europe's #1 Country Station), The Memphis Sound Is Back On The World's Airwaves (Instagram), and New Recording "Unchained Melody" (Instagram). Watch Johnny Pach Hollywood News Center New Report on John Krondes https://youtu.be/eZgMnEE-Kow. Visit Official Site https://johnkrondes.com. Radio Contact – Kayden Gordon, FSA Records * 978-577-8410 and PR Contact -Ed Lozzi, Edward Lozzi & Associates PR * 310-922-1200 * www.lozzipr.com . Stay Tuned Fans, John Krondes And Elvis Presley Are United!!!
HOLLYWOOD NEWS CENTER

Rock 'N Roll News Desk
Noble Love
Hollywood News Center
+1 310-420-8640
[email protected]
Visit us on social media:
Facebook
Twitter
LinkedIn
Instagram
Hollywood News Center Nashville News Story On John Krondes And Elvis Hit Team


Originally published at https://www.einpresswire.com/article/650296814/john-krondes-and-elvis-presley-s-hit-team-electrify-radio-on-the-anniversary-of-king-s-death-with-1st-new-recordings