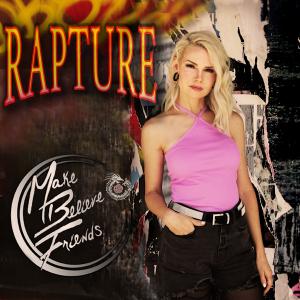 Final Mix and ATMOS Mix by Legendary Producer Ed Stasium
ASHEVILLE, NC, USA, June 16, 2023/EINPresswire.com/ — Make Believe Friends drops their latest video and single, a cover of Blondie's iconic and timeless song "Rapture" on Friday, June 16, 2023. "Rapture" is an American classic rock/rap/alt-rock song written by Debbie Harry and Chris Stein of Blondie. The hit song was released in 1981 on Blondie's fifth studio album "Autoamerican".
Mindy Milburn and Laura Espinoza (the core members of Make Believe Friends) wanted to create a bit more haunting updated version, but without changing the structure, integrity or major elements of this classic song.
To make this happen, Mindy (lead vocals) and Laura (guitar, keyboards) enlisted the talents of some of the best musicians and producers in music today including: Bass: Phil Soussan (Ozzy, Last in Line); Synth: Michael Bluestein (Foreigner); Drums: Logan Miles Nix (John 5, Heart of Blonde); Michaela Metiver (Heart of Blonde); & Enrique Garcia (Heart of Blonde).
Bernie Godwin III (whose father Dito Godwin produced No Doubt), co-produced and co-mixed the single, then legendary Producer Ed Stasium (Ramones, Talking Heads, Smithereens) produced the final mix and the ATMOS mix.
"I just watched and listened to this great new version of 'Rapture.' Wow! There's a lot going on, and the slightly darker edge timed close to the recent release of "Haunt Me" makes sense. I love it! It is hard to believe that it has already been over 40 years since Blondie's No. 1 gold single. Congratulations to everyone, especially Mindy pulling off the singing and rapping." – Warren Kurtz – Goldmine Music Magazine
Watch Rapture video here: https://youtu.be/KYqAGjAcyPY
About Mindy Milburn:

Mindy has a passion for all performing arts- starting out as a ballet dancer and actress, & eventually finding her voice and passion for songwriting and music. She is also the lead vocalist for the Blondie Tribute Band "Heart of Blonde". Originally from Cleveland Ohio, she has performed in numerous musical theater productions & indie films and was also a member of the Cleveland Cavaliers Dance Team. Mindy made the move to southern California to follow her dream of becoming a recording artist and feels very blessed by the opportunities that have come her way.
About Laura Espinoza:

Laura is a songwriter/guitarist, playwright, and TV producer. She has performed on stage with Luis Maldonado (Train), Terri Nunn (Berlin), Dale Bozzio (Missing Persons) & Prescott Niles (The Knack) and started her career with Matt Sorum (Guns n' Roses). She has recorded at Capitol Records, Hollywood, Abbey Road, UK and is the host of "The Rock Radio Show" on KBU-FM, Malibu. Laura is also the recipient of 3 Emmy Awards.
Make Believe Friends headlines the legendary VIPER ROOM, Hollywood on Saturday, June 24, 2023. Tickets available at:

https://www.eventbrite.com/e/make-believe-friends-headlines-the-viper-room-tickets-645023321117
To purchase/listen to the music of Make Believe Friends:

https://lundenreign.com/
For more information:

www.MakeBelieveFriendsBand.com

Facebook: https://www.facebook.com/makebelievefriendsband

YouTube: https://www.youtube.com/@MakeBelieveFriends

Instagram: @Makebelievefriendsband
Press inquiries:
Billy James
Glass Onyon PR
+1 828-350-8158
[email protected]


Originally published at https://www.einpresswire.com/article/639733764/l-a-alt-rock-band-make-believe-friends-release-cover-of-blondie-s-classic-rapture