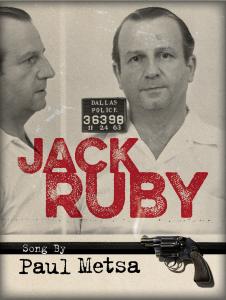 8-time MN Music Award-winning songwriter, musician, author and historian Paul Metsa re-releases his iconic song "Jack Ruby" and re-releases its
music video too
"Paul Metsa is America's answer to Billy Bragg." – NPR / "Paul Metsa is the other great folksinger from Minnesota's Mesabi Iron Range." – Huffington Post"
— NPR / Huffington Post
MINNEAPOLIS, MINNESOTA, UNITED STATES OF AMERICA, November 8, 2023 /EINPresswire.com/ — Award-winning songwriter, musician, author, radio host and cultural historian Paul Metsa is re-releasing his song "Jack Ruby" in conjunction with the 60th Anniversary of the JFK assassination and Lee Harvey Oswald murder. Originally debuted at Farm Aid V in Dallas in 1993, and received with mixed reaction from the police doing security there, Metsa's "Jack Ruby" song is as poignant now as it was then, thirty years ago.
"I watched Jack Ruby shoot Lee Harvey Oswald on television and that tragic weekend has haunted me for years," Metsa says. "I never bought into the Warren Commision 'single bullet theory,' and this song was my response to that."
Paul Metsa's iconic song "Jack Ruby" appeared on his "Whistling Past the Graveyard" record from 1993. The record was produced by and features Bucky Baxter (Steve Earle, Bob Dylan) on pedal steel and long-time Bruce Springsteen's E Street member Garry Tallent on bass guitar.
Partial "Jack Ruby" Lyrics:

Jack Ruby, Jack Ruby in a Cavanagh hat,

whoever taught you to shoot a pistol like that

Oh, you snuck in the basement and you stood in the back,

Jack Ruby, Jack Ruby in a Cavanagh hat
Did the Warren Commission mean what they say?

Did the mob or oil money get in the way?

Did the shadow of Cuba darken the day?

In Dallas County the land of LBJ

In Dallas County the land of LBJ
For full lyrics, please visit paulmetsa.com/jackruby
Paul has extensively studied Ruby's murder of Oswald and has his own theories surrounding those events back in late November 1963. Additionally, Metsa has interesting stories about what inspired him to write "Jack Ruby" and can alsoexplain his powerful lyrics and fascinating songwriting techniques.
Download link below along with more info about Paul's wide-ranging career and his lauded new book "Blood in the Tracks (The MInnesota Musicians Behind Dylan's Masterpiece)," published by University of Minnesota Press.
About Paul Metsa:

Referred to by the Huffington Post as "the other great folksinger from Minnesota's Mesabi Iron Range," Paul Metsa grew up in Virginia, MN, 22 miles east of Bob Dylan's hometown of Hibbing. In his 40 year career, Paul has won 8 MN Music Awards, recorded 12 critically-acclaimed recording projects, played over 5,000 professional gigs as well as being a featured performer at some of the biggest festivals and political events like Farm Aid V, the Tribute to Woody Guthrie at the Rock and Roll Hall of Fame, the Million Mom March in Washington, DC and the Folk City 60th Reunion at the Iridium in NYC in January of 2020.
In addition to being a noted musician and songwriter, Metsa is an acclaimed author. "Welding together the wisdom of William Blake and the deep sentiment of Frank Capra" (Duluth Reader), his book "Alphabet Jazz: Poetry, Prose, Stories and Songs" was published by Palmetto and features poetry, prose, stories and songs from 1984 to 2022. Metsa's 2011 autobiography "Blue Guitar Highway" (University of Minnesota Press) was recently inducted into the Minnesota Blues Society Hall of Fame and was re-released in paperback in the spring of 2023.
And, Paul Metsa just released his new book "Blood in the Tracks (The Minnesota Musicians Behind Dylan's Masterpiece)," co-written with author Rick Shefchik and published by the University of Minnesota Press. In conjunction with that book, he was recently invited to the Bob Dylan Center in Tulsa, Oklahoma, to take part in a discussion of the book, along with a performance of his original music. More about his books, music and radio show at www.paulmetsa.com.
To schedule Paul Metsa for a live performance of the "Jack Ruby" song or to talk about Jack Ruby himself, or his new book "Blood in the Tracks

(The MInnesota Musicians Behind Dylan's Masterpiece)," please contact: John McCally of McCally Integrated Marketing Solutions (MIMS) at (612) 845-7999 or [email protected].
John McCally
McCally Integarted Marketing Solutions
612-845-7999
email us here
Music Video of "Jack Ruby" by Paul Metsa — Directed and Produced by John McCally
Originally published at https://www.einpresswire.com/article/667221102/paul-metsa-re-releases-jack-ruby-for-60th-anniversary-of-jfk-assassination