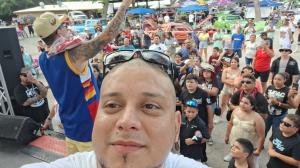 Loke G Performing Live at Low Rider Car Show New Braunfels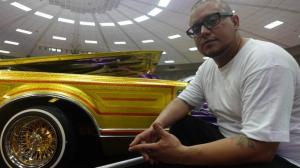 Loke G representing and participating at the Victoria Super Show
Chicano Rapper Loke G has been putting in work on stages all over Texas in 2023. Entertaining crowds with a unique energy looking for bookings in your city.
Wisdom and peace come when you start living the life the creator intended for you."
— Geronimo
HOUSTON, TX, UNITED STATES, July 5, 2023/EINPresswire.com/ — The Chicano rap scene is full of talent, but one artist in particular, Loke G, is making waves across Texas with his unique performances. From The Super Show in Victoria to gracing the stage at the lowrider car show in New Braunfels, Loke G has been leaving audiences mesmerized by his realistic presence and undeniable talent. With each performance, he solidifies his status as a rising star in the underground music industry.
Loke G considers himself the representative of the poor and as the General Manager of AKM Publishing he continues to look for opportunities to network and look for great content to include in Tha Plugg Magazine.
Loke G has been a part of some monumental events this year, stealing the show at Dope House Records, sharing the stage with legends like Low G, Juan Gotti, Carley Coy, Mr Nevadie, Carolyn Rodriguez and Powda, who have helped pave the way for artists in the underground rap genre. These experiences have undoubtedly enriched Loke G's musical journey and have allowed him to learn from the best in the game.
One of the recent highlights of Loke G's career was his invitation to perform at the prestigious Houston House of Blues, located in downtown Houston. Taking the stage in the foundation room, Loke G delivered a show-stopping performance that further solidified his reputation as an artist to watch. The Houston House of Blues is renowned for hosting some of the most talented and iconic musicians, and Loke G's inclusion in their lineup speaks volumes about his rising prominence in the industry.
Following the success of his live performances, Loke G has been gaining attention for his impressive discography of singles. His new single called The Realest has accumulated over fifty thousand views on YouTube on its first month. And his last release, Get Over It, has gained great reviews. These releases showcase his skillful lyricism and his ability to connect with listeners through his relatable and heartfelt storytelling. From realism tracks to Chicano anthems, Loke G's music transcends boundaries and resonates with audiences on a profound level. Loke G expresses his emotions through his craft so his live performances are emotional and full of realism.
As Loke G continues to build a loyal fanbase, he is now actively seeking new opportunities to showcase his talent. He hopes to connect with promoters and venue owners who are willing to book his captivating performances. With his ability to engage and energize a crowd, Loke G promises to bring an unforgettable experience to any event or venue that welcomes him.
Fans and critics alike praise Loke G for his authenticity, as he remains true to his roots while pushing the boundaries of Chicano rap. His ability to seamlessly blend Raza elements with Tejano and Hip hop sounds has garnered him a dedicated following. Audiences across various cities have been won over by Loke G's unique stage presence and humble personality.
Loke G's journey as an artist is only beginning, and his relentless pursuit of his craft has garnered attention from industry insiders and fans alike. With each live performance, he captivates audiences, leaving an indelible impression that resonates long after the show ends. The echo of The Barrio permanently etched into each venue.
Promoters and venue owners looking for a unique and engaging artist to entertain their crowds need look no further than Loke G. With his talent, charisma, and dedication, Loke G is ready to continue his upward trajectory in the underground music industry. By booking Loke G, not only will they be securing a captivating live act, but they will also be supporting the rise of a promising artist destined for great things.
For booking inquiries and further information, interested parties can contact Loke G directly.
Loke G is an artist on the rise, and his passion for his craft, combined with his unique performances, ensures that he will leave an indelible mark on the underground music industry for years to come. With many years of experience, Loke G is ready to headline any event.
Daniel Olavarrieta
KBT
+1 210-712-9044
email us here
Visit us on social media:
Facebook
Twitter
Instagram
YouTube
https://www.youtube.com/watch?v=The Realest


Originally published at https://www.einpresswire.com/article/643044735/texas-artist-and-entertainer-loke-g-performing-live-seeks-new-opportunities